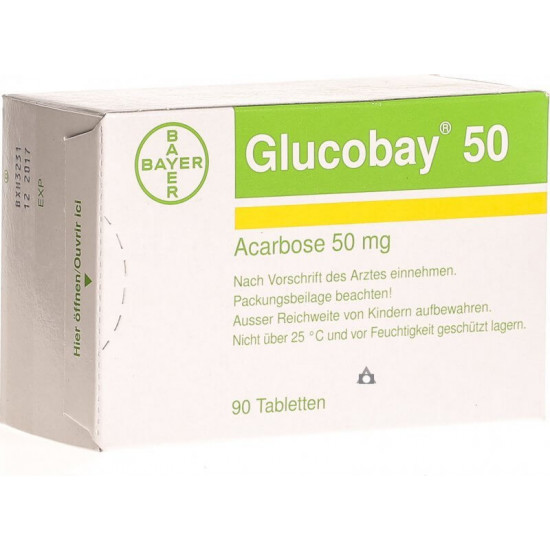 Glucobay 50mg
Glucobay 50 Tablet is used to treat people with type 2 diabetes mellitus. It helps lower blood sugar levels after meals. It belongs to a group of medicines known as alpha-glucosidase inhibitors. This medicine is usually prescribed in combination with other diabetes medications.
Glucobay 50 Tablet should be taken just before or along with a meal. The dose and how often you need it will be decided by your doctor so that you get the right amount to control your blood sugar levels. It may be increased gradually. Do not stop taking it without consulting your doctor. If you do, your blood sugar levels may increase and put you at risk of serious complications like kidney damage and blindness.
This medicine is only part of a treatment program that should also include a healthy diet, regular exercise, and weight reduction as advised by your doctor. Monitor your blood sugar levels regularly while taking this medicine.
This medicine's most common side effects include flatulence (gas), stomach pain, and diarrhea. Please consult your doctor if these bother you or do not go away.
Glucobay 50 Tablet by itself does not cause hypoglycemia (low blood sugar levels). However, when used in combination with other diabetes medicines (especially insulin or sulphonylureas), it can lead to hypoglycemia (low blood sugar levels). Such episodes of hypoglycemia should be treated by taking plain glucose. Table sugar or common sugar will not help correct low blood sugar levels if you are taking this medicine.
Before taking it, let your doctor know if you have any kidney or liver problems. Do not take this medicine if you have ulceration or inflammation in the bowel (eg. ulcerative colitis or Crohn's disease). Pregnant or breastfeeding women should also consult their doctor before taking it.
Contains Glucobay 50mg box of 90 cmp by BAYER.

Bayer – Schering Pharma