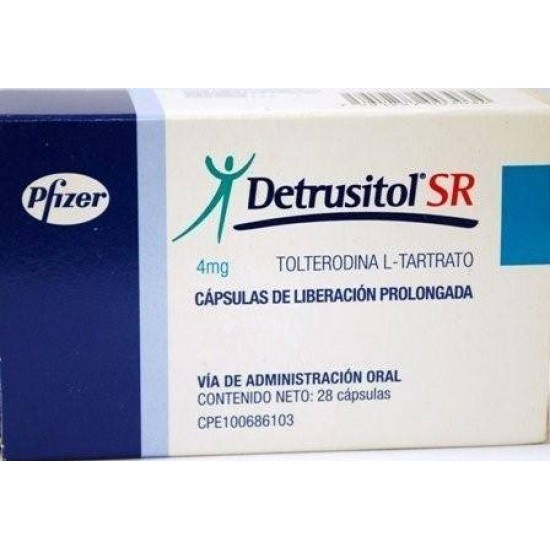 Detrusitol 4mg
What is Detrusitol?
Detrusitol tablets are an antimuscarinic (or anticholinergic) medication that works by relaxing the muscles in the bladder to offer relief from the symptoms of urinary incontinence. Containing the active ingredient tolterodine tartrate, Detrusitol capsules are also available in an XL prolonged-released form.
Detrusitol is prescribed to patients who are experiencing symptoms of urge incontinence or who suffer from overactive bladder syndrome. This condition affects those that are unable to control their urination or frequently need to go to the toilet with little warning.

How does Detrusitol work?

Urge incontinence is widely known as being caused by uncontrollable spasms in the detrusor muscle located in the bladder. These involuntary contractions cause your bladder to empty.
The active ingredient tolterodine tartrate works by relaxing this muscle so the bladder will stop randomly contracting and so will be more effective in holding urine. Tolterodine tartrate relaxes this muscle by inhibiting specific receptors, which are located on the surface of the muscle cells, called muscarinic receptors.

What are the benefits of Detrusitol?

The main benefit of Detrusitol is its effectiveness in treating the frustrating symptoms of incontinence. The active ingredient, tolterodine tartrate has been proven by clinical studies to reduce the frequency of passing urine in most cases.
Detrusitol tablets can be taken as an immediate release dose, so the medication starts to absorb into the blood directly after the tablets are taken. This means that the medication can quickly begin to treat your incontinence.
Detrusitol 4mg box of 28 cmp by Pfizer


Pfizer