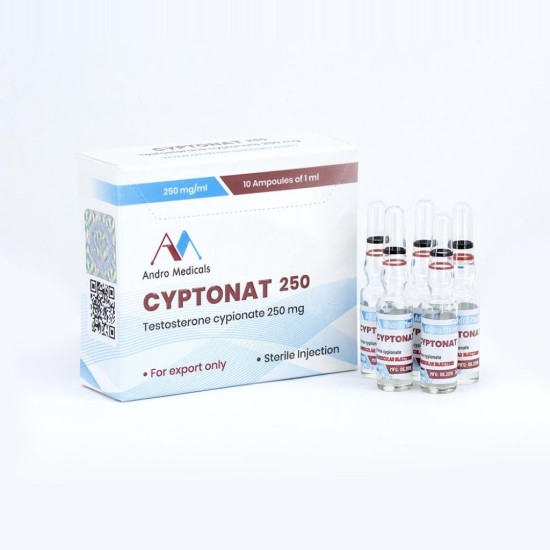 Cyptonat 250mg
Cyptonat contains the active substance testosterone cypionate, a male hormone. Testosterone cypionate is an artificial form of male sex hormone, testosterone, which is secreted naturally. This is one of the estrogenic sports steroids which does not damage the liver. The medication works best for male athletes and bodybuilders. Masculinization risk is very high for females and so testosterone cypionate intended for men only.
Cyptonat is a great option for when you want to gain more muscle mass, increase productivity and stimulate metabolism. The half-life of this ester is about two weeks. So, you do not have to worry about frequent injections.
Benefits

increased muscle mass;
increased bone density;
improvement in spatial memory;
increased libido;
increased stamina;
mood improvement.
Dosage
The optimal dosage is 50–200 mg. Inject it intramuscularly every 2–4 weeks. Dosage is regulated depending on your response to treatment and the occurrence of adverse reactions.
After you finish taking Cyptonat, you will notice that the excess fluid will gradually be eliminated from the body, leaving clean muscle mass.
Cyptonat 250mg by Andro Medicals box of 10 amp.


Andro Medicals