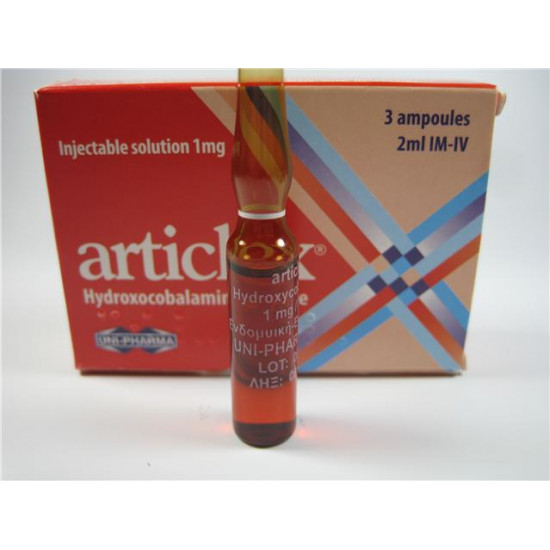 Articlox - Vitamin B12 (hydroxocobalamin)
Articlox general information
Vitamin B-12, also called cobalamin, is a water soluble vitamin with a key role in the normal functioning of the brain and nervous system, and for the formation of blood. It is one of the eight B vitamins. It is normally involved in the metabolism of every cell of the body, especially affecting DNA synthesis and regulation, but also fatty acid synthesis and energy production. As the largest and most structurally complicated vitamin, it can be produced industrially only through bacterial fermentation-synthesis.
Vitamin B12 consists of a class of chemically-related compounds (vitamers), all of which have vitamin activity. It contains the biochemically rare element cobalt. Biosynthesis of the basic structure of the vitamin in nature is only accomplished by simple organisms such as some bacteria and algae, but conversion between different forms of the vitamin can be accomplished in the human body. A common synthetic form of the vitamin, cyanocobalamin, does not occur in nature, but is used in many pharmaceuticals and supplements, and as a food additive, due to its stability and lower cost. In the body it is converted to the physiological forms, methylcobalamin and adenosylcobalamin, leaving behind the cyanide, albeit in minimal concentration. More recently, hydroxocobalamin (a form produced by bacteria), methylcobalamin, and adenosylcobalamin can also be found in more expensive pharmacological products and food supplements. The utility of these is presently debated.
Articlox dosage and administration
Vitamin B12 is believed to be safe when used orally in amounts that do not exceed the recommended dietary allowance (RDA). The RDA for vitamin B12 in pregnant women is 2.6 µg per day and 2.8 µg during lactation periods. There is insufficient reliable information available about the safety of consuming greater amounts of vitamin B12 during pregnancy.
The Vegan Society, the Vegetarian Resource Group, and the Physicians Committee for Responsible Medicine, among others, recommend that vegans either consistently eat foods fortified with B12 or take a daily or weekly B12 supplement. Fortified breakfast cereals are a particularly valuable source of vitamin B12 for vegetarians and vegans. In addition, adults age 51 and older are recommended to consume B12 fortified food or supplements to meet the RDA, because they are a population at an increased risk of deficiency
Articlox side effects
Vitamin B12 has extremely low toxicity and even taking it in enormous doses appears not to be harmful to healthy individuals.
Hematologic: Peripheral vascular thrombosis has been reported. Treatment of vitamin B12 deficiency can unmask polycythemia vera, which is characterized by an increase in blood volume and the number of red blood cells. The correction of megaloblastic anemia with vitamin B12 can result in fatal hypokalemia and gout in susceptible individuals, and it can obscure folate deficiency in megaloblastic anemia. Caution is warranted
Each Box Contain 3 Amps 2ml/1mg

Uni-Pharma