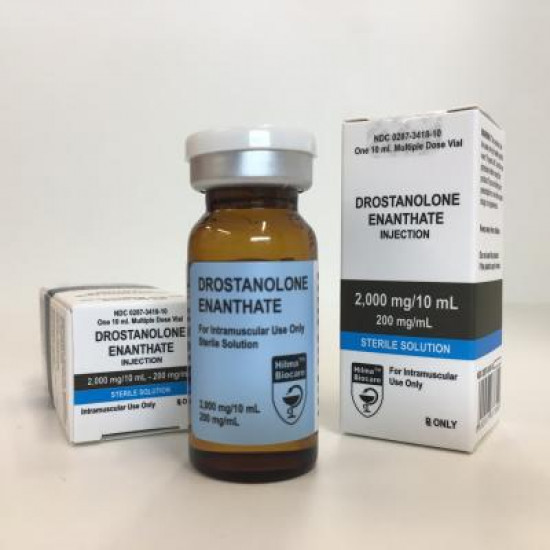 Drostanolone Enanthate 200mg
Drostanolone Enanthate, which should be more frequently known as Masteron Enanthate, is a long estered variant of Drostanolone. Drostanolone Enanthate is an anabolic androgenic steroid that first hit the market around 1970 under the trade name Masteron (which was Drostanolone Propionate,a short estered variant of Drostalonone) manufactured by Syntex.
Drostanolone is a Dihydrotestosterone (DHT) derivative, meaning it is a modified form of DHT itself. There are many anabolic steroids within the family of DHT derivatives, some of which are very well known and very popular (Oxandrolone/anavar, Stanozolol/winstrol, Methenolone/Primobolan and etc.).
The reason as to why DHT-derivatives are so popular and useful in the world of bodybuilding and athletics is due to the fact that they are incapable of conversion (aromatization) into Estrogen. DHT is not recognized as a proper substrate for the aromatase enzyme in the body, and therefore any hormone that is derived from DHT will assume these same qualities. The only strange exception to this rule would be Anadrol-50 (Oxymetholone), which expresses heavy estrogenic effects, but still does not actually aromatize. On the other hand, no estrogenic effects what so ever should be experienced with the use of Masteron Enanthate at any dosage used at all. The same goes for any other compounds that are in the DHT-derivative family (with the exception of Anadrol, of course)
Drostanolone Enanthate 200mg/1ml
buy masteron e, buy mast enanthate, buy mast e, buy mastabol, mastaplex, buy drostanolone, buy mast



Hilma Biocare