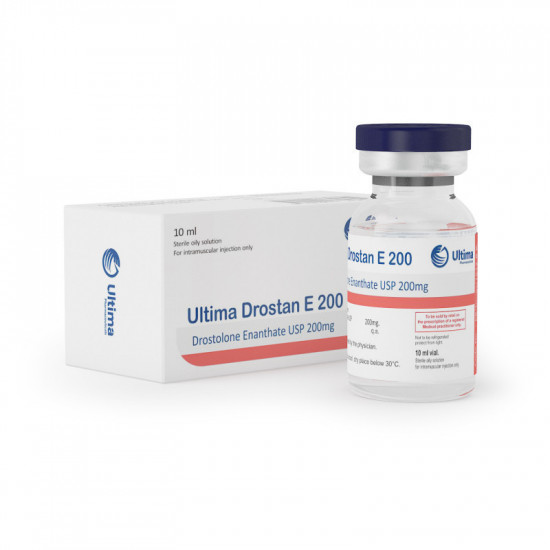 Ultima-Drostan E 200mg USA
Ultima-Drostan E 200 from Ultima Pharmaceuticals, is used mainly for drying and for improving muscle mass. Ultima-Drostan E 200 has mild anabolic actions which are not causing side-effects while respecting the recommended dosage.
The main active ingredient in Ultima-Drostan E 200 is Drostanolone Enanthate.
Ultima-Drostan E 200, according to reviews, affects the body of the athlete in a similar manner to testosterone but does it softer and does not cause the side effects which are peculiar to the male hormone. Moderation of its effect allows women to use it as long as they do not exceed the recommended dosages, they may be not afraid of virilization.
Ultima-Drostan E 200 Effects:
helps to build a beautiful dense muscles with high resistance to the phenomenon of rollback;
Ultima-Drostan E 200 do not delay fluid in the tissues;
the drug has a positive effect on the relief of muscles and improve venous drawing;
there is significant fat-burning effect.
In order to achieve the best results on the course it is also recommended to buy peptides, fat burners, dietary supplements and vitamin/mineral supplements, diet, exercise.
Ultima-Drostan E 200: Dosage, Cycle, PCT:
take Ultima-Drostan E 200 over from a half to three months.
men, on average inject 400-500 mg per week.
for beginners, a seven-day dosing should reduce to 200 mg.
women are advised not to exceed 100 mg per week.
Ultima-Drostan E 200mg/ml by Ultima Pharmaceuticals 10ml USA DOMESTIC


Ultima Pharmaceuticals