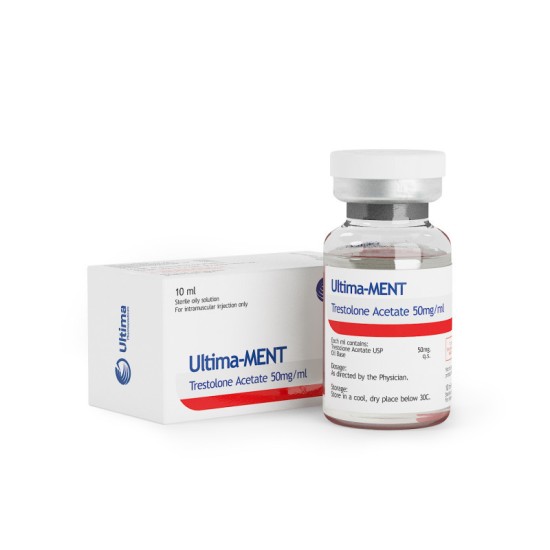 Ultima-Ment 50mg USA
Trestolone Acetate (Ultima-Ment), also known as a7 alpha-methyl-nortestosterone (MENT powder) is an extremely powerful synthetic steroid that is even stronger than testosterone. The steroid is used for bodybuilding purposes as well as for strength training. This steroid has the potential to be used for male contraceptive measures. The steroid causes temporary infertility in men if administered in sufficient quantities.
Trestolone Acetate (Ultima-Ment) (6157-87-5) is believed to be ten times more powerful than testosterone, and as a result, it has gained an excellent reputation for many years. It is administered through various ways such as powder or injection. This steroid is more useful to committed weight lifters bodybuilders aspiring to get positive results by combining the steroid with diets fitness regimen as well as supplements.
How does Trestolone Acetate works?

Trestolone Acetate (Ultima-Ment) CAS 6157-87-5 helps bodybuilders to increase muscle mass and reduce fat at the same time. To achieve optimum results, the steroid can be combined with other boosters with hardening and cutting body physique. The steroid causes temporary infertility by inhibiting gonadotropins release from the pituitary gland.

The steroid also inhibits the release of gonadotropins, follicle stimulating hormone, and luteinizing hormone even in low amounts. Follicle stimulating hormone (FSH) and Luteinizing hormone (LH) are required in the process of spermatogenesis, a process by which testes produce spermatozoa.

When the release LH and FSH are inhibited, spermatogenesis does not take place. Suppressing LH further impairs the production of sperms and curtails testosterone production, thus infertility. MENT powder is an adequate replacement therapy for most of the functions that depend on androgen. An In-depth Review of Superdrol (Methasterone) for bodybuilding

Uses of Trestolone Acetate (Ultima-Ment)
Unlike other anabolic steroids which owe their popularity to black market dealers or over the counter supplement companies, Trestolone Acetate owes its reputation to legitimate medical, scientific research making it very popular among the bodybuilding communities. MENT was first produced in the 1960s

Recently, Schering, a research-based pharmaceutical company and the Population Council have developed an interest in generating this steroid following their research into this steroid for purposes of male birth control therapy as well as hormone replacement. These companies have discovered distinct traits with the steroid suitable for bodybuilding. Besides, this steroid is widely useful in androgen replacement therapy.

Other than contraception and androgen replacement therapy and contraception, as intramuscular preparation or as a transdermal, there are other Trestolone Acetate (Ultima-Ment) uses including in primary hypogonadism, baldness, loss of bone mass, prostate cancer, testicular failure, BHP, ASIH, sarcopenia, cachexia and muscle wasting as well as sports enhancement and body building.

Trestolone Acetate (Ultima-Ment) dosage
Since Ultima-Ment has not been commercialized as a drug, there have not been developed specific Trestolone Acetate (Ultima-Ment) dosage guidelines for the steroid. Being a highly potent steroid, small dosages will be effective for bodybuilders. Some studies show that the drug is ten times more powerful than testosterone and suppresses spermatogenesis twenty times more effective than testosterone.

As a result, dosages below 10mg (commonly 3-16mg) per day will be effective for most beginners. Oil-based injectables of this drug may be taken in roughly 10-20mg with intervals of two to three days. Some people may consider dosages of over 10mg per day for good Trestolone Acetate (Ultima-Ment) results since the effectiveness of the drug is not same for all people.

Different people have different degrees of sensitivity to the drug's progestational and estrogenic properties. High dosages are however not recommended because they may lead to serious side effects.

Experienced users of Trestlone may use dosages of 20-50mg every day. However, this may differ depending on the form in which it is taken. For instance, the injectable form may be slightly lower than transdermal and oral forms. In most cases, however, this drug is not administered orally; injections and transdermal solutions are recommended as the best ways to take this drug. To curtail oestrogen and prolactin side effects, it is advisable to use the steroid with prolactin inhibitors like Cabergoline and an aromatase inhibitor like Arimidex.

Some experienced users may take dosages of 50-75mg every day for a cycle of 4 weeks. These users should split the dosage into two parts, that is, one before sleeping and another one after waking up. Experts may take dosages of up to 75-100mg. Such a dosage may be split into three parts, as shown below:

Morning- 25mg
Pre-workout- 25-50mg
Before sleeping or at night- 25mg
Ultima-Ment 50mg USA by Ultima Pharmaceuticals 10ml.


Ultima Pharmaceuticals