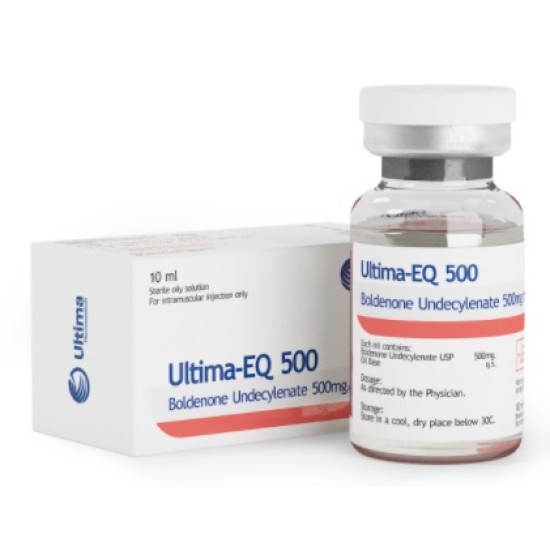 Ultima-EQ 500mg USA
Ultima-EQ 500, from the famous Ultima Pharmaceuticals company, is available in convenient 10 ml vials. The concentration of active substance (Boldenone Undecylenate) in each vial is of 500 mg per 1 ml. This anabolic steroid has high activity and is intended for injection. Its low risk of side effects makes it possible to successfully use a steroid as solo cycle, or in combination with other sports medicine drugs.
This steroid's ester is the longest of Boldenone. Recently, there are shorter versions: Boldenone Acetate and Boldenone Propionate, but they are less popular, although effects on the body does not differ.

Boldenone is derived from Testosterone, and differs only in its double bond molecule between the first pair of carbon atoms. This seemingly small improvement has allowed Ultima-EQ 500 to have a completely different effect on the body of an athlete, although the strengths of the anabolic effects of Testosterone, are identical. The differences begin with androgenic activity, which Boldenone have it twice below. Also, it is not converted into estrogen and is characterized by extremely low progestogen activity.

Also for Boldenone Undecylenate half-life is two weeks, thus reducing the frequency of injections to once every seven days. But it should be taken with caution for those who have in plans competition. Boldenone, originally synthesized for veterinary use, is not allowed for use, and can be detected at the doping control within 5 months from the date of the last injection.

Ultima-EQ 500 Effects
it promotes muscle gain;

increases power rates;
increases endurance;
the effect is not lost after the end of the cycle;
taken at the recommended dose, it does not cause adverse effects;
improves oxygen transport – increases appetite;
it makes a beautiful muscular relief and venous drawing.
Ultima-EQ 500mg USA by Ultima Pharmaceuticals 10ml.


Ultima Pharmaceuticals