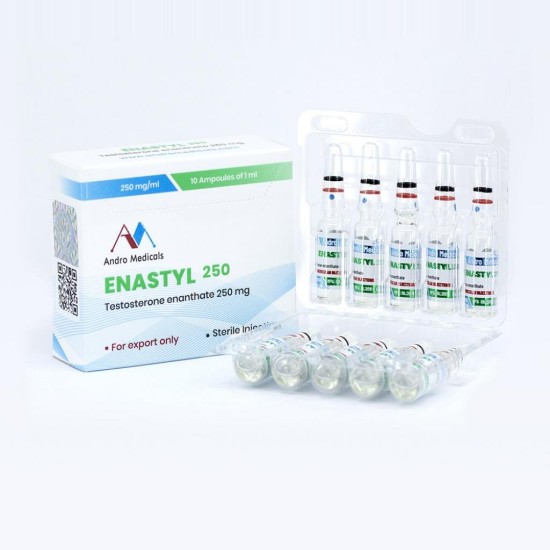 New
Enastyl 250mg
Enastyl contains the male hormone, testosterone enanthate, which is metabolized into pure testosterone and has an identical action. Testosterone enanthate is a long ester that is effective giving you strong peaks right after the injection and stable slowly decreasing levels. If you don't like injections this might be an option for you – a new dose should be taken every couple of weeks to get stable levels and long-lasting results. Please note that the drug is estrogenic, therefore, causes swelling.
Benefits
significant increase in lean muscle mass;
stimulation of tissue regeneration processes;
surge of energy;
fat burning;
stimulation of beard and mustache growth;
increased concentration of red blood cells;
accelerated recovery of the body.
Enastyl also effectively eliminates joint problems, helps get rid of crunch in the shoulders and protects the vertebral discs from final wear.
Dosage:
The dose is 250 mg administered intramuscularly every 2-3 weeks. The maintenance dose is 250 mg of testosterone enanthate intramuscularly every three to six weeks, depending on individual requirements.
Testosterone enanthate has been and remains a very efficient and popular steroid, giving athletes and bodybuilders additional motivation for hard but effective workouts.
Enastyl 250mg by Andro Medicals box of 10 amp.


Andro Medicals