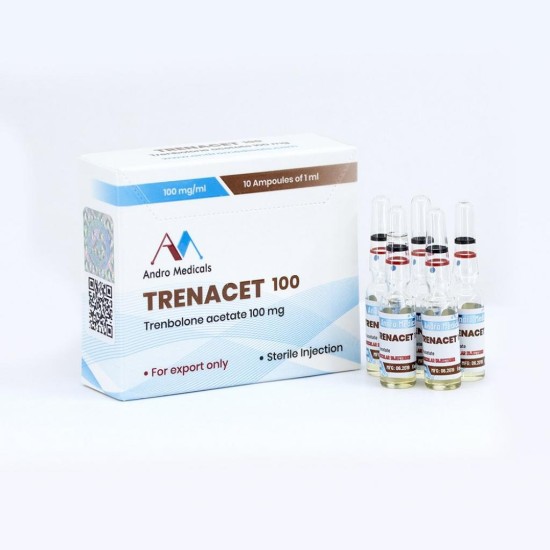 Trenacet 100mg
We offer you Trenbolone acetate, which binds very well to the androgen receptor and five times as potent as testosterone. Due to a strong androgenic and anabolic effect this drug can be used both for cutting and for bulking cycles. Trenbolone is not estrogenic and it is not toxic for the liver. Acetate is a relatively short ester giving you high peaks.
Most athletes use Trenbolone acetate for its bulking properties, to gain more weight without swelling. Although potent it is relatively safe and side effects are mostly connected with overdose.
Benefits
fast muscle reconstruction;
slight fat loss;
limited increase in cortisol levels;
muscle-strengthening;
increased sexual activity;
increased retention of nitrogen.
You can successfully use Trenacet (Trenbolone acetate) for the cutting phases.
Dosage
Trenacet is recommended for use exclusively by men and these doses are designed for men.
The recommended dose is 50-100 mg once every 2 days as an intramuscular injection.
For beginners, the course begins with a dose of 50 to 100 mg once every two days.
The duration of the course is about 56-60 days.
A high concentration of Trenbolone acetate in the bloodstream is reached already a few hours after the injection, which allows it to really quickly "turn on" to work, causing an intense anabolic response.
Trenacet 100mg by Andro Medicals box of 10 amp.


Andro Medicals