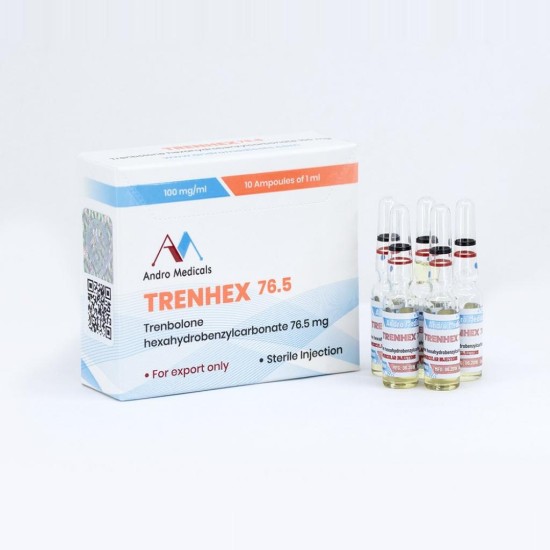 Trenhex 76.5mg
Trenbolone hexahydrobenzylcarbonate – the main component of Trenhex, an anabolic steroid with significant anabolic and androgenic effects. It is a long-acting ester of trenbolone which has a half-life of up to 10 days. The high androgenic effect prevents a possible muscle break down syndrome and accelerates the regeneration of muscle tissue. Trenbolone hexahydrobenzylcarbonate also accelerates the burning of adipose tissue and speeds up metabolism. Trenhex increases muscle strength and hardness, especially in combination with the protein diet. So it is in high demand in bodybuilding, powerlifting, Crossfit, and other sports. The lack of an estrogen component made Trenhex one of the most important drugs for performing bodybuilders.
Benefits
the drug is resistant to aromatization;
increases muscle strength and hardness;
enhances metabolism;
burns fat;
helps the body recover fast after strenuous activity or after injury;
enhances nutrient efficiency.
Dosage
Trenhex should be administered intramuscularly.
For men, the usual dose is 153-306 mg per week. Due to the rapid resorption, the weekly dose should be divided into 2-3 doses. Those who never tried Trenhex should consider lower doses (150-200 mg) and assess the tolerance levels.
Women are not recommended to take the drug or start off with much lower dosages.
The maximum course duration is 8 weeks.
Trenhex is quite powerful and it is great for both bulking and cutting phase, and most importantly – Trenhex does not lead to water retention or bloating. Therefore, body fat is lost with lean tissue being preserved, and the weight loss is a healthy weight loss.
Trenhex 76.5mg by Nadro Medicals box of 10 amp.


Andro Medicals