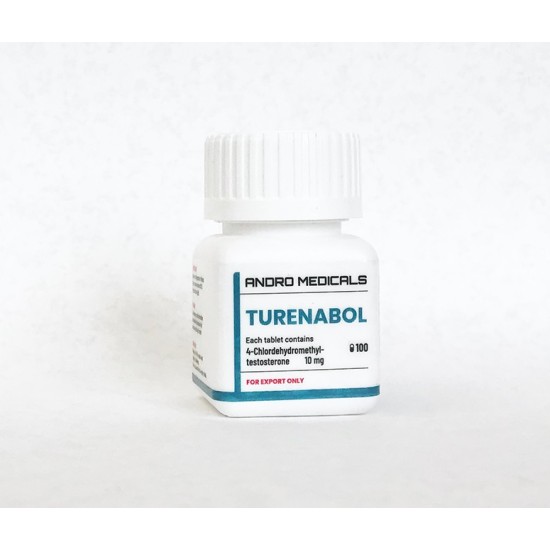 Turenabol 10mg
TURENABOL is an oral anabolic steroid mainly used for androgynous reduction. Its androgynous activity is 6%, while the anabolic effect is 53%. The active substance of TURANOBOL is 4-chlordehydromethyltestosterone, it combines with the DNA and performs as a transcription factor that causes the synthesis of specific RNA and proteins. The drug has mainly an anabolic effect which is most noticeable in the striated muscles and bones, together with other tissues with the intensive area (bone marrow, mucous membrane). Its effect primarily determines the rate of muscle growth and mass increase.
TURENABOL can be used during the recovery period in pathologies accompanied by protein synthesis disorders, cachexia of various genesis, injuries, burns, after infectious diseases and irradiation, muscular dystrophy, anorexia, loss appetite, weight loss, osteoporosis, renal failure, bone damage process, negative nitrogen balance in corticosteroid therapy, hypo- and aplastic anemia, chronic hemolytic anemia, anemia from chronic renal failure, idiopathic thrombocytopenia, leukemia, and lymphomas.
High anabolic effect, and low androgenic effect.
Improving protein synthesis in the body. This is the reason why turinabol only helps you gain lean muscle mass.
Increased endurance and strength.
Increased vascularity, stiffening muscles.
Rapid cell regeneration after hard exhausting workouts.
Dosage
TURENABOL should always be used in a dose, in the manner and for the period prescribed by your doctor. It is administered orally. The film-coated tablets should be swallowed whole with a glass of water. Tablets must not be divided, crushed or chewed.
The usual dosage is 20 to 50 mg per day.
Treatment usually lasts from 2 to 6 weeks.
Precautions
TURENABOL should not be used by children and adolescents under the age of 18 due to a lack of data on safety and efficacy.
The drug may cause the suppression of blood coagulation factors that require careful supervision, including concomitant use with anticoagulants.
Before starting treatment and during it, rectal control of the prostate should be performed.
Turenabol 10mg by Andro Medicals box of 100cmp.


Andro Medicals