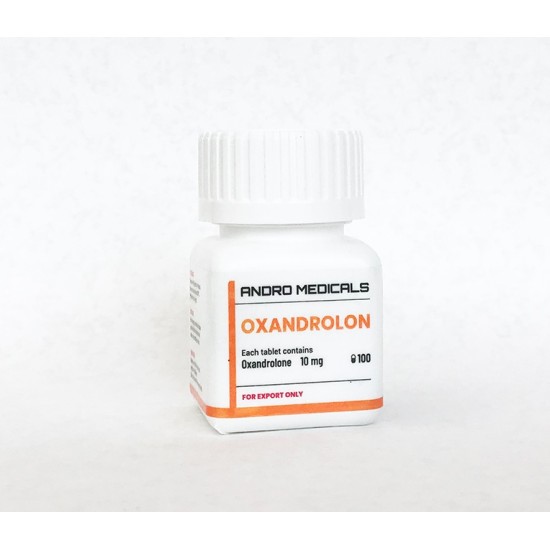 Oxandrolon 10mg
OXANDROLON tablets contain the main substance oxandrolone, a synthetic derivative of testosterone. Oxandrolone stimulates the anabolic processes and inhibits the catabolic ones, which is caused by glucocorticoids. That brings to an increase in muscle mass, improvement of connective tissue and a decrease in body fat. OXANDROLON can be used during therapy in pathologies accompanied by protein synthesis disorders associated with prolonged administration of corticosteroids, cachexia of various genesis, injuries, extensive burns, after infectious diseases and irradiation, muscular dystrophy, weight loss following extensive surgery, osteoporosis, hypo- and aplastic anemia, chronic hemolytic anemia.
Improving the relief and hardness of muscle mass;
Increase in physical fitness indicators;
Impact on the synthesis of growth hormone;
Getting rid of body fat.
Dosage
OXANDROLON should always be used in a dose, in the manner and for the period prescribed by your doctor. It is administered orally. The film-coated tablets should be swallowed whole with a glass of water. Tablets must not be divided, crushed or chewed.
The usual dosage is 2.5 to 20 mg per day, divided into 2-4 intakes.
The duration of therapy is usually 2-4 weeks. The course of treatment can be repeated after one or two months.
Side effects:
Like all medicines, OXANDROLON can cause side effects, although not everybody gets them. In therapeutic doses, side effects are unlikely.
During prolonged treatment, the following adverse reactions were observed:
Liver tumors. In the elderly – hypertrophy and/or prostate cancer.
Changes in blood tests, low blood coagulation with a tendency to bleeding.
Hypersensitivity reactions.
Insomnia, arousal, depression, confusion.
Inhibition of gonadotropin secretion.
Nausea, vomiting, reduced appetite.
Decreased glucose tolerance.
Oxandrolon 10mg by Andro Medicals box of 100 cmp.


Andro Medicals