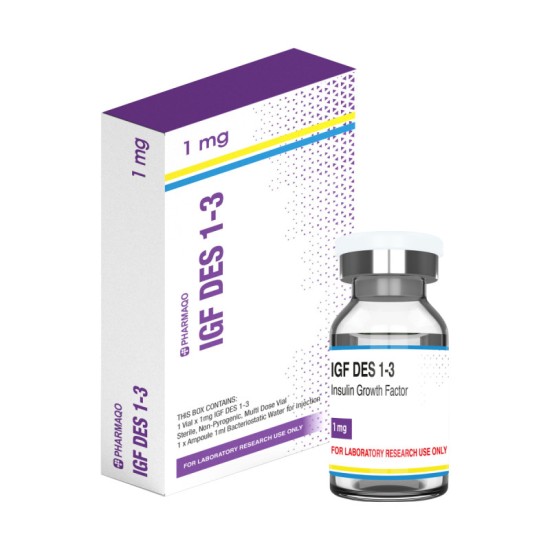 New
IGF DES 1-3 1mg
Insulin-like Growth Factor 1 (IGF-1), also known as Somatomedin C, is a hormone alike in molecular structure to insulin, which plays an important role in childhood growth, and has anabolic effects in adults.
IGF-1 is one of many growth factors required for standard human development. IGF-1 is synthesized mostly by the liver but also centrally in numerous tissues. IGF-1 consists of 70 amino acids. Similar to insulin, IGF-1 has an A and B chain connected by disulphide bonds. The C peptide region has 12 amino acids.
Usage:
Insulin-like growth factor-1 (IGF-1) helps encourage normal bone and tissue growth and development and also has the ability to decrease blood glucose levels.
IGF-1 advances to fat cells and therefore burns fat. Subsequently, it increases lean body mass and decreases fat. These effects are desired mostly by athletes and bodybuilders. Increased IGF-1 levels are also comparable to weight gain. This weight gain is a result of lean body mass growth, not fat production. IGF-1 is favored in the bodybuilding industry and for people who workout regularly. It helps enhance recovery time after workout and improves energy during the workout. IGF-1 injections are common for adults and children if they have a growth hormone deficiency. IGF-1 contains many necessary amino acids that can help children who are not developing at a standard rate and supplement adults that are deficient.
Research has also shown that the anabolic effects of IGF-1 may reflect inhibited protein breakdown and stimulated protein synthesis in skeletal muscle and that this response may be caused by a direct effect of IGF-1 on muscle tissue, therefore assisting burns on the skin and other tissue abnormalities.
Mechanism of Action:
IGF-1 is a hormone found naturally in human blood. Its primary function is to manage the effects of growth hormone in the body. Normal IGF-1 and growth hormone functions include tissue and bone growth. IGF-1 is formed in different tissues as a result of growth hormone in the blood. IGF-1 promotes systemic body growth, and has growth-stimulating effects on mostly every cell in the body, mainly bone, cartilage, skeletal muscle, liver, kidney, nerve, skin and lung cells. As well as the insulin-like effects, IGF-1 can also manage cellular DNA synthesis.
IGF DES 1-3 1mg by Pharmaqo


Pharmaqo