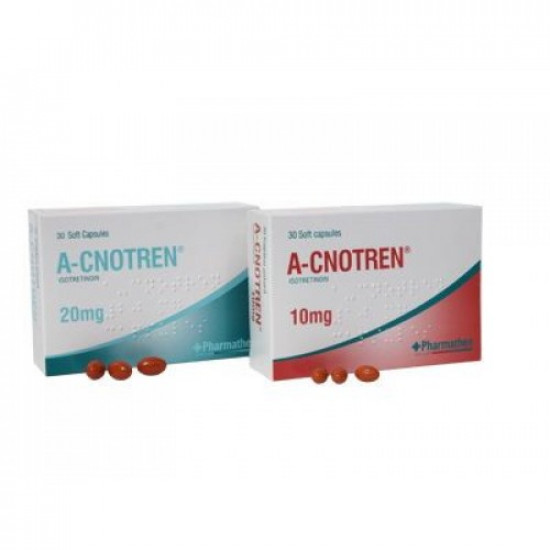 -46 %
A-CNOTREN 10mg( Roaccutan)
The main active ingredient according to the international classification: Is isotretinoin - 10 mg in 1 capsule.
Molecular Weight: 300.44 gr/mol, Structure: C20H28O2.
Refers to natural retinoids, i.e. a chemical derivative of vitamin A.
The drug is also known by the pharmacological name Roaccutane (Roche). It is actively used in the treatment of severe forms of acne, and acne rashes. It is prescribed when traditional methods and drugs, including antibiotics, do not give the desired result.
Roaccutane inhibits the activity of the sebaceous glands, and can even cause a physical reduction in their size. Through research, it has been proven that Isotretinoin has an anti-inflammatory effect on the skin.
The drug blocks the blockage of the duct of the sebaceous gland due to hyperkeratosis of the epithelium of the hair bulb, thereby removing the possibility of inflammation and the development of acne. Isotretinoin accelerates the processes of renewal and regeneration of the skin, eliminating the possibility of inflammation and, as a result, the formation of rashes on the skin.
The ability of the retinoid Isotretinoin to increase the level of skin elasticity and help smooth wrinkles has also been proven.
Presentation:

1 box contains 30 tablets with 10 mg/each

Roche