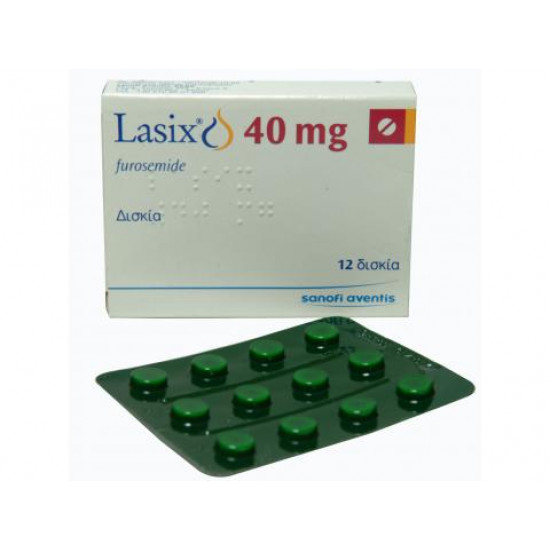 -38 %
Lasix
Pharmaceutical Name: 
 Lasix 40 mg

Chemical name: 
 Furosemide

Chem . Abstr . Name: 4-chloro-2-(furan-2-ylmethylamino) - 5-sulfamoylbenzoic acid
Molecular Structure: 
 C12H11ClN2O5S
Molecular Weight: 
 330.754 gr / mol

Product Description:
LASIX ® is a diuretic which is an anthranilic acid derivative. LASIX tablets for oral administration contain furosemide as the active ingredient and the following inactive ingredients: lactose monohydrate NF, magnesium stearate NF, starch NF, talc USP, and colloidal silicon dioxide NF. Chemically, it is 4-chloro-N-furfuryl-5-sulfamoylanthranilic acid. LASIX is available as white tablets for oral administration in dosage strengths of 20, 40 and 80 mg. Furosemide is a white to off-white odorless crystalline powder. It is practically insoluble in water, sparingly soluble in alcohol, freely soluble in dilute alkali solutions and insoluble in dilute acids. LASIX ® (furosemide) is a potent diuretic which if given in excessive amounts, can lead to a profound diuresis with water and electrolyte depletion.

Presentation :

1 box contains 12 tablets. Each tablet contains 40mg furosemide.

Sanofi - Aventis