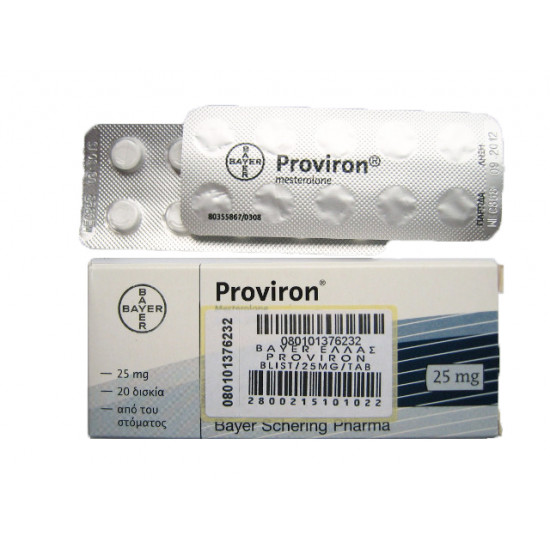 -17 %
10 Box (200Tabs) Proviron - Bayer – Schering 25mg
Pharmaceutical Name: 
 Proviron (Laboratory Bayer - Schering Pharma) - Bulk Offer 10 Box of BAYER Proviron

Chemical name: 
 Mesterolone

Chem . Abstr . Name: 
 1 alpha-methyl-17 beta-hydroxy-5 alpha-androstan-3-one

Molecular Structure: 
 C20H32O2

Molecular Weight: 
 304.467 gr / mol

Product Description:

Molecular weight: 304.467 g/mol, structure C20H32O2.
Each tablet of the drug contains 25 mg of the active substance, known under the international name Mesterolone. The drug belongs to androgens, a group of sex hormones and stimulants. Proviron Schering is an oral preparation that is rapidly absorbed. Thanks to the C-1 methyls in their composition, the agent is not metabolized into the female hormone estrogen.
In clinical settings, the drug is often used to eliminate the manifestations of various types of sexual dysfunctions. Especially caused by low levels of endogenous testosterone in patients. Proviron has shown good results in the treatment of impotence in men, increasing the level of sexual desire and interest. It is also used to increase the number of active sperm in seminal fluid.
Proviron Schering is not a classic stimulator of endogenous testosterone production. It is an oral substitute, which is used when it is necessary to compensate for the lack of male androgen.
Proviron is well tolerated by the liver, which distinguishes it from many similar drugs in the androgen series.

Bayer – Schering Pharma