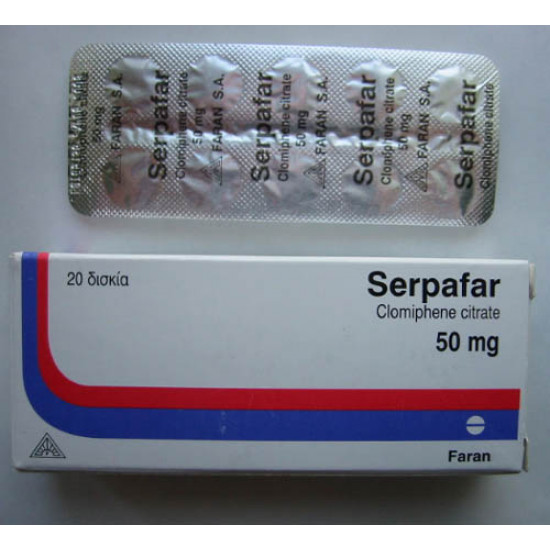 Clomid Serpafar 50mg
Generic Name: clomiphene citrate
It is an anti-estrogenic agent. For female patients, the drug is prescribed to stimulate ovulation processes. Clomiphene citrate (generic international drug name) can block the connection of estradiol with receptors located in the ovaries and hypothalamus. Because the negative feedback is inhibited simultaneously with the increase in the production of gonadotropins, ovulation processes are stimulated.
Taking Clomid by men leads to an increase in the production of the natural male hormone testosterone. This property of the drug was noticed by sports pharmacologists. There is a positive effect of the drug, especially released at the end of the steroid cycle. After completing the course of anabolic steroids, athletes experience a drop in the level of endogenous testosterone. Maintaining it in the norm is the key to success in maintaining strength qualities and increased muscle mass. Clomiphene citrate shows good results in such matters of consolidating the achieved sport's success.
The usual dose of the drug for professional bodybuilders is 50-100 mg of clomiphene per day for 10-14 days. The tool returns the production of endogenous testosterone to a normal natural level smoothly, during the entire period of taking the medication.
Effective Dose: 1 - 2 tabs a day
Each Box contain 20 Tabs. Each Tab 50mg

Faran Laboratories