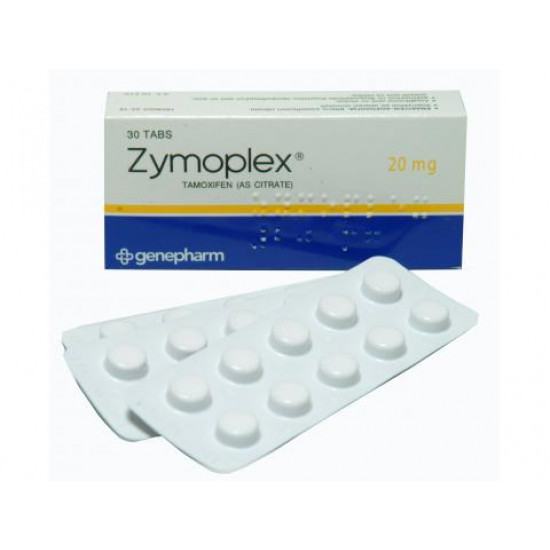 Zymoplex - (Nolvadex 20mg)
Pharmaceutical Name: 
 Zymoplex (Laboratory Genepharma)

Chemical name: 
 Tamoxifen Citrate

Chem . Abstr . Name: 
 (Z) -2 - [4 - (1,2-diphenylbut-1-enyl) phenoxy]-N, N-dimethylethanamine

Molecular Structure: 
 C26H29NO

Molecular Weight: 
 563.638 gr / mol

Product Description:

Zymoplex is a selective Estrogen Receptor Modulator. Which means that is a non-steroidal agent that demonstrates potent antiestrogenic properties. It is technically an estrogen agonist / antagonist, which competitively binds to estrogen receptors in various target tissues. With the tamoxifen molecule bound to this receptor, estrogen is blocked from exerting any action, and an antiestrogenic effect of Nolvadex is achieved.

Zymoplex also shows the ability to increase production of FSH (follicle stimulating hormone) and LH (luteinizing hormone) in the male body. This property is accomplished by blocking negative feedback inhibition caused by estrogen at the hypothalamus and pituitary, which fosters the release of the mentioned pituitary hormones. This property of Zymoplex of course is also the function of Clomid and cyclofenil. Since a higher release of LH can stimulate the Leydig's cells in the testes to produce more testosterone, Zymoplex can have a positive impact on one's serum testosterone level. This "testosterone stimulating" effect of Zymoplex is an added benefit when preparing to conclude a steroid cycle. Since most anabolic / androgenic steroids will suppress endogenous testosterone production, Zymoplex can help restore a balance in hormone levels. It has also been shown to increase LH responsiveness to Gonadotropin Releasing Hormone after time. It is therefore no wonder Nolvadex has become the most widely used medication in the world for men on a steroids looking to avoid estrogen effects.

Presentation :

1 box contains 30 Tabs. Each tab contains 20 mg.

Genepharm