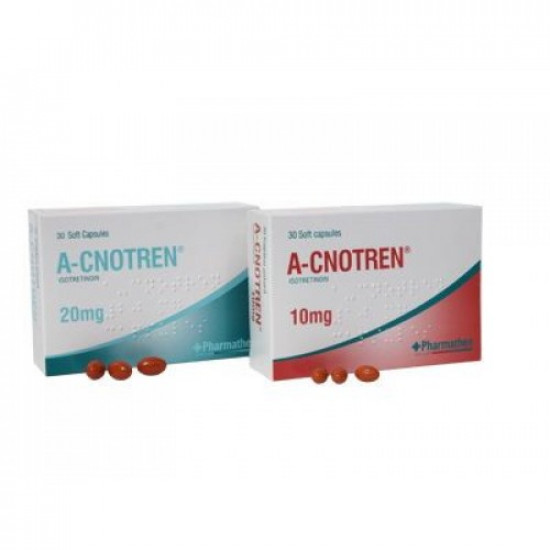 -44 %
A-CNOTREN 20mg( Roaccutan)

Product Description
The main active ingredient according to the international classification: Is isotretinoin - 20 mg in 1 capsule.
Molecular Weight: 300.44 gr/mol, Structure: C20H28O2.
The active substance in this preparation is Isotretinoin, a natural retinoid, i.e. a chemical compound that is a derivative of vitamin A. This remedy is widely known under the pharmacological name Roaccutane (Roche).
The main medicinal purpose of A-CNOTREN is to eliminate the manifestation of acne, the course of severe acne. The drug is prescribed after the use of various specific means aimed at improving the skin, including antibiotics.
Isotretinoin has been proven to reduce the activity of the sebaceous glands, reducing the production of their secret. Subsequently, even a physical decrease in the size of these glands as a result of taking this remedy was repeatedly observed.
Isotretinoin can actively counteract rashes and help cleanse the skin from acne and pimples, and other manifestations of inflammatory processes. Retinoid also improves the condition of the skin: it increases the level of its elasticity, smoothes wrinkles, and gives a healthier and more blooming appearance.
Box Contain 30 Tabs, each tab 20mg

Pharmathen, Hellas