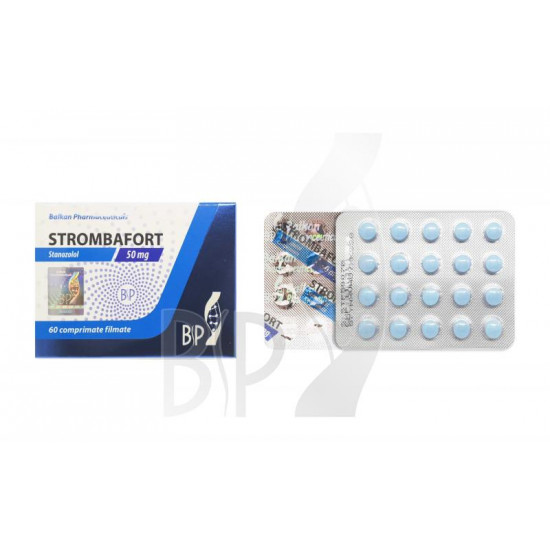 Hot
Strombafort 50mg - 20 Pills
Strombafort by Balkan Pharmaceuticals is an oral steroid which contains 50mgs of the hormone
stanozolol.
Active ingredient: Stanozolol.
Product: 20 tablets in a blister (50mg)
Color: white.
Strombafort (Stanozolol / Winstrol) is another form of oral stanozolol and it is best then Stanabol and it is often referred as Winstrol.
Strombafort have a simillar effect as Stanabol but it have more of active substance.
Strombafort is a new drug of the Moldavian pharmaceutical factory Balkan Pharmaceuticals.
Strombafort perfectly proved to use with other medications, and proved excellent quality of products from Balkan Pharmaceuticals.
This anabolic drug helps quality and rapid muscle gain and at the same time is reducing body fat.
Strombafort works without water retention in the body.
This drug improves metabolism in most tissues of the body.
Holds important elements for the health of bodybuilder: phosphorus, potassium, sodium, nitrogen.
buy Strombafort - is great for building muscle.
This stanozolol / vistrol is better to use 2 times a day, preferably with food and drink it with a little water.
Stanozolol (Strombafort) is not estrogenic so thats why you dont need in anti-estrogens after cycle.

Balkan Pharmaceuticals
Tags:
stanozolol
,
winstrol
,
buy stromba
,
stromba
,
stanozolol online
,
shop stromba
,
buy Stanabolic
,
buy Stargate
,
buy Anaysynth
,
buy Neurabol Caps
,
buy Strombaject
,
buy Winstrol Depot
,
buy winny
,
buy balkan pharma