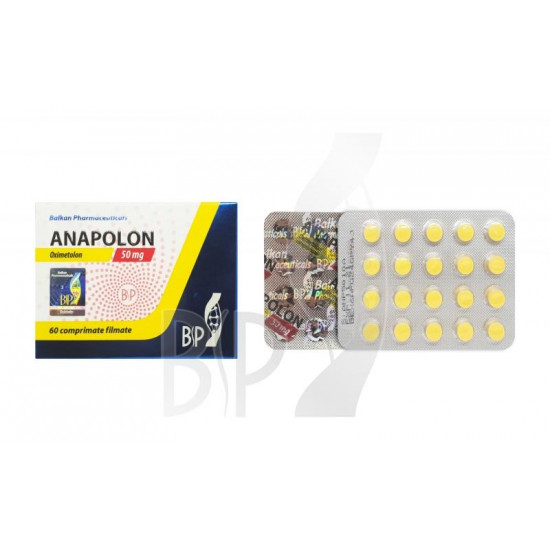 -9 %
Anapolon 50mg - 20 Pills
Anapolon

General information:

Manufacturer: Balkan Pharmaceuticals
Substance: Oxymetholone

Pack: 20 tabs (50 mg/tab)

Manufacturer:Balkan Pharmaceuticals

This product is human use licensed by law at GMP standards. More details on company website
The active substance of the drug is Oxymetholone. The drug has a mild androgenic effect and a powerful anabolic effect. The tool was developed in the 60s of the last century in the laboratories of Syntex Pharmaceuticals. This synthetic steroid, in the first place, was intended to maintain the proper level of muscle mass in patients suffering from osteoporosis and anemia, as well as other patients in need of it. The tool has shown itself to be a good side in the use to support debilitated, poorly eating patients.
The main effect of Anapolon is achieved by stimulating the production of red blood cells through increased production of erythropoietin, a natural hormone. So the drug provides an additional flow of oxygen to the cells.
In our time, Oxymetholone and preparations containing it have found their application in sports. Anapolon is a time-tested and recommended steroid by many athletes. Its application allows you to achieve the following results:
increase the strength of the athlete;
successfully build muscle mass;
increase the functionality of articular tissues.
The course of taking the drug in combination with proper nutrition will add up to 10 kg of muscle mass.

Balkan Pharmaceuticals