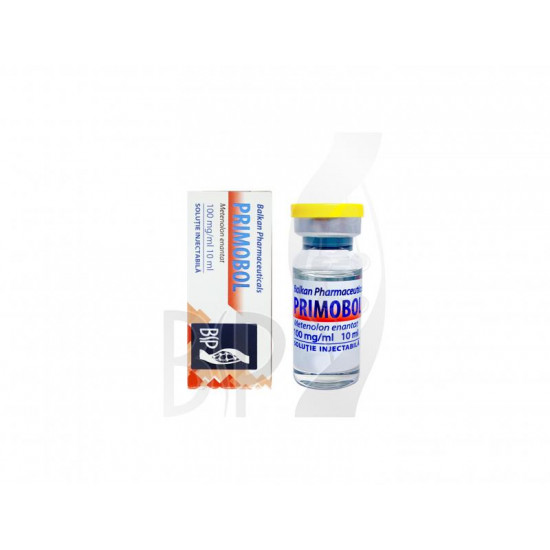 Primobol 100mg - 10ml vial
Primobol 100mg - 10ml vial
Primobol is a premium quality injectable anabolic steroid used in bodybuilding for cutting and weight loss purposes.
In the sports community, this anabolic steroid is considered one of the safest and "softest" in terms of intensity of influence on the body. Due to the characteristics of its active ingredient ("methenolone enanthate"), Primobol is characterized as an effective agent for cutting rather than building muscles.
It is characterized by moderate anabolic characteristics with mild androgenic activity, and since the main active ingredient is a derivative of dihydrotestosterone, it does not have aromatization (conversion to estrogen), so it does not cause estrogen-associated side effects (gynecomastia, water retention, etc.). The likelihood of other complications and stress on the body during the course is also minimal.
In terms of the effectiveness of the effect on the burning of adipose tissue and anti-catabolic properties (minimizing the loss of "clean" muscle mass during drying), it is advisable to compare Primobol with Oxandrolone. However, both of these AACs can be used by girls.
Primobol can be considered a good option for athletes with no experience with steroids if their goal is to lean muscle rather than build it. If the athlete avoids injections, the drug is also available in tablet format.
Characteristic effects and other benefits of the steroid
minimizes the loss of "net" muscle weight during the drying period (anti-catabolic effect);
activates accelerated burning of subcutaneous fat reserves;
improves the relief of muscle mass;
characterized by excellent tolerance and a very low likelihood of side effects;
Primobol has no conversion to estrogen and no harmful effects on the liver;
it can use in the field of female bodybuilding.

Balkan Pharmaceuticals