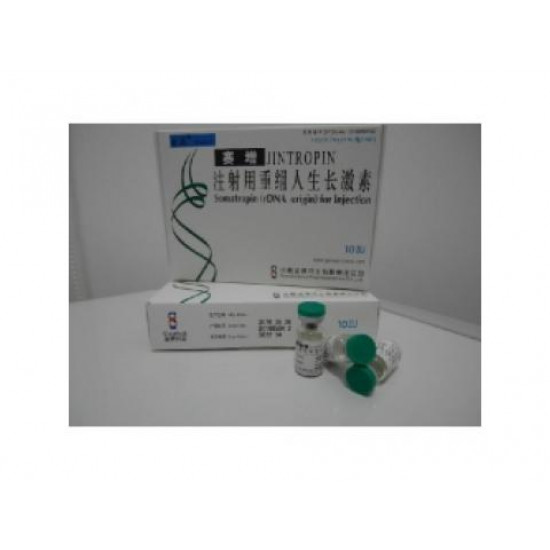 -7 %
Jintropin Kit 10 Vials (100IU)
Jintropin Kit 10 Vials is a reliable drug for quality sports
Jintropin is one of the most popular, if not the most popular synthetic growth hormone drug in the world.
Jintropin - Recombinant human growth hormone (rDNA origin) for injection. Powder for injection 10IU (3.33 mg) certified.
The drug is manufactured by GeneScience Pharmaceuticals Co., LTD, in Changchun Province, China. It is the largest advanced biotechnology company in China.
Release form and composition
Powder injection of 10 IU (10 human drug units)
One vial contains Powder for injection (rDNA origin) of 10 IU. (10 international units of the drug).
Indications for use
Growth dysfunction due to insufficient production of growth hormone in a patient or factors associated with congenital gonadotropic dysfunction or patients with Turner syndrome, characterized by abnormalities in the chromosomal set.
Growth dysfunction in preadolescent children with chronic renal dysfunction.
Replacement therapy in adults with overt growth hormone deficiency.
Acceleration of wound healing and reduction of the catabolic effect in severe burns, sepsis, multiple injuries, major operations, acute pancreatitis, and intestinal fistula.
Topical use, for wound healing, treatment of acute and chronic ulcers, such as burns, diabetic leg ulcers, chronic venous ulcers, and decubitus ulcers.
Contraindications
Should not be used if there is any possibility of a brain tumor. Intracranial lesions (if any) should not be in the acute phase) and any anti-cancer therapy should be completed before taking Jintropin. Jintropin should not be used to promote growth in children with a closed epiphysis.