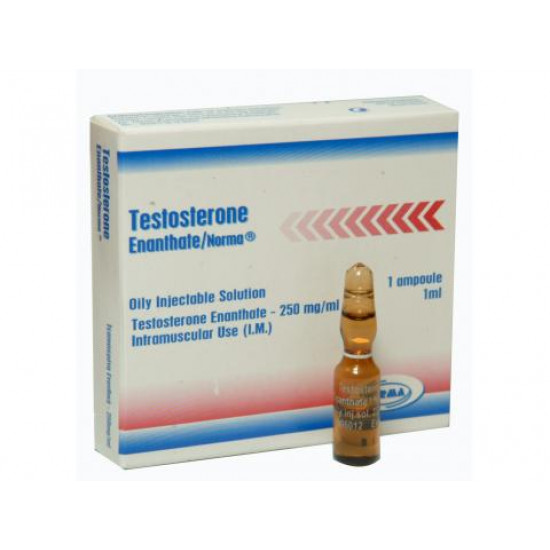 Testosterone Enanthate (Norma Greece)
Pharmaceutical Name: 
Testosterone Enanthate (Laboratory Norma Hellas)
Chemical name: 
Testosterone Enanthate
Chem. Abstr. Name:
(8R,9S,10R,13S,14S,17S)- 17-hydroxy-10,13-dimethyl- 1,2,6,7,8,9,11,12,14,15,16,17- dodecahydrocyclopenta[a]phenanthren-3-one
Molecular Weight: 
288.42 gr/mol
Product Description:

Testosterone Enanthate a long acting form of the parent hormone testosterone. In this particular case, the parent hormone has been attached to the Enanthate ester to delay its release into the bloodstream over several days.
Testosterone exerts both genomic and non-genomic effects in the human body. This means that while many of testosterone's effects are mediated by the androgen receptor, and gene transcription, many also occur without such stimulation. Testosterone promotes health and well-being, enhances libido, increases energy and promotes fat loss. It can also boost immunity. Testosterone aids in gaining and preserving lean muscle mass. It prevents against bone loss as well as heart disease.
It is typically injected once every one to three weeks, though some users opt for a twice a week frequency as well. This version of testosterone will cause the usual side effects associated with Testosterone, including: hair loss, acne, gynecomastia and eventual cessation of the body's natural testosterone production. Buy norma testosterone.
Most bodybuilders and power lifters use 500mg-1000mg/week and they become rapidly massive and strong. Consult the cycle for its use.
Presentation:

Each order need to be done for at least 5 ampoules of 1 ml with 250mg/each Testosterone Enanthate.

Norma Hellas