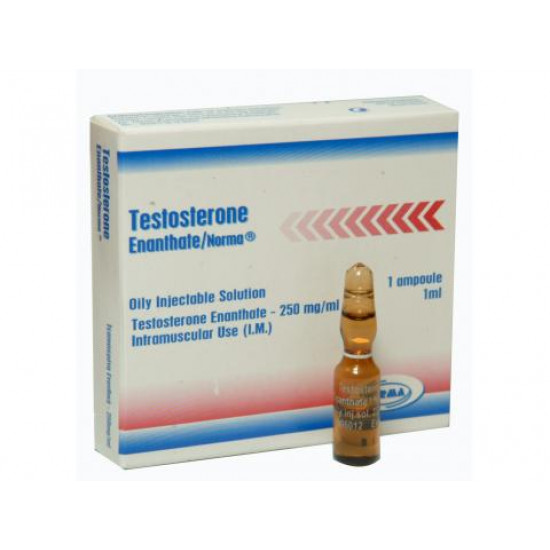 Testosterone Enanthate (Norma Greece)
Production: Laboratory Norma Greece
Molecular weight: 288.42 g/mol, structure C19H28O2.
Testosterone Enanthate is a long-lasting form of the hormone testosterone. For its release into the blood to take place within a few days, the manufacturers combined the parent hormone testosterone and enanthate ester.
The substance affects the human body both at the genomic and non-genomic levels. Testosterone disposes of the breakdown and reduction of fat levels and has a general strengthening effect on the human body. It also increases the level of immunity, has a positive effect on sexual desire, and gives energy and stamina to the person who takes it.
Testosterone favorably affects the build-up of dry muscle mass, strengthens and compacts bone tissue, and prevents the loss of its mass. A positive effect of the substance in the prevention of heart disease has been noticed.
The drug is actively used by professional athletes, bodybuilders, and powerlifters. Dosages are individual, to choose the rate of use of the drug for you, consult with a specialist. The negative side effects of taking testosterone traditionally include alopecia, skin rashes, as well as a decrease (and even a complete cessation) in the production of natural testosterone by the human body.
Presentation:

Each order need to be done for at least 5 ampoules of 1 ml with 250mg/each Testosterone Enanthate.

Norma Hellas