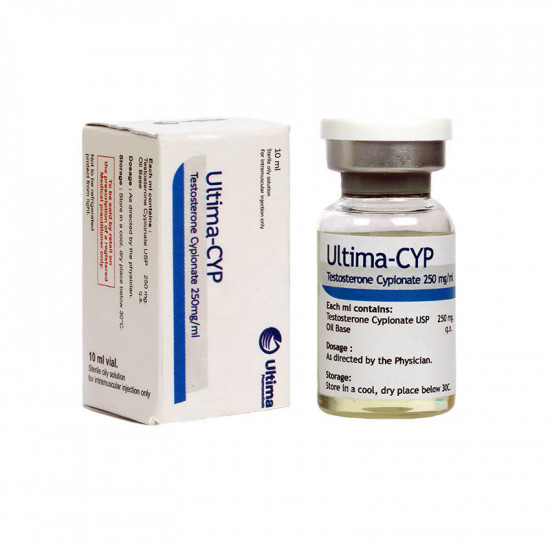 Ultima-Cyp 250mg USA
Ultima-Cyp - injectable anabolic steroid with prolonged action (about 2 weeks), the use of which is accompanied by a significant increase in muscle mass, endurance, performance and power.
As the basis of the Ultima-Cyp drug, is used the most "long" testosterone ester – Testosterone Cypionate. This material is very popular in the US since the middle of last century. Ultima-Cyp has high androgenic activity (100%) and anabolic (100%), flavoring properties and water retention.
Ultima-Cyp Effects:
- muscle significant increase;
- increase oxygen mass in the blood, endurance;
- provision of spermatogenesis, increased libido;
- optimization of nitrogen and phosphorus balance;
- growth of power capacity;
- strengthen joints (due to water retention in the body).
Ultima-Cyp side effects often are associated with the ability of testosterone to be converted into estrogen (aromatization effect). These ready-made steroid cycles require mandatory use of anti-estrogens and aromatase blockers to avoid the effects of gynecomastia. Exceeded dosages also cause androgenic sides (possible growth of hair or hair loss, acne, high blood pressure and others.).
Testosterone Cypionate 250mg/ml by Ultima Pharmaceuticals 10ml USA Domestic


Ultima Pharmaceuticals